Economic growth and efforts to improve the lives of Kenyans are hampered by Kenya power shortages in the country. World Bank figures indicate that only 25 percent in a population of about 57 million people in Kenya has access to electricity, with only 5 percent of the population in rural areas included in the electricity grid. As a result, people in rural areas are dependent on biomass energy resources which are expensive, pollute the air and causing severe health complications.
David Wanjau, a social entrepreneur, identified renewable energy project as a sphere to serve communities that are lacking access to energy in Kenya. In his pursuit of making the difference, he left his job in 2016 and launched Deevabits Green Energy which delivers clean and reliable energy to rural, off-grid communities in Kenya. Through their pay-as-you-go model, these communities can switch to clean energy at an affordable cost by paying a small deposit up front and paying back the balance in instalments.
After years of working in the non-profit sector dedicated to improving food security in sub-Saharan Africa, David knew just how difficult it is for off-grid communities to access energy. During his previous job, he travelled to rural areas of Kenya and Tanzania and witnessed challenges that many businesses are confronted with when it comes to energy problems.
"Farmers were spending a lot of money on inefficient kerosene for lighting, and I knew there had to be a better solution. To address this need, I founded Deevabits Green Energy and developed a pay-as-you-go model for distributing and financing solar products to rural, off-grid communities."
David is also passionate about enabling economic opportunities for youth and women in rural areas. He empower these groups through employment opportunities in a form of Village Social Entrepreneurs (VSEs) which entails marketing and selling solar products to earn commissions. This strategy gets the economy moving forward in ways that create decent work and allowing people and communities to thrive, enabling them to take care of their families.
"We believe in creating economic opportunities for those who need them most. That's why we employ youth and women living in rural areas to help improve lives and stimulates economic growth in communities."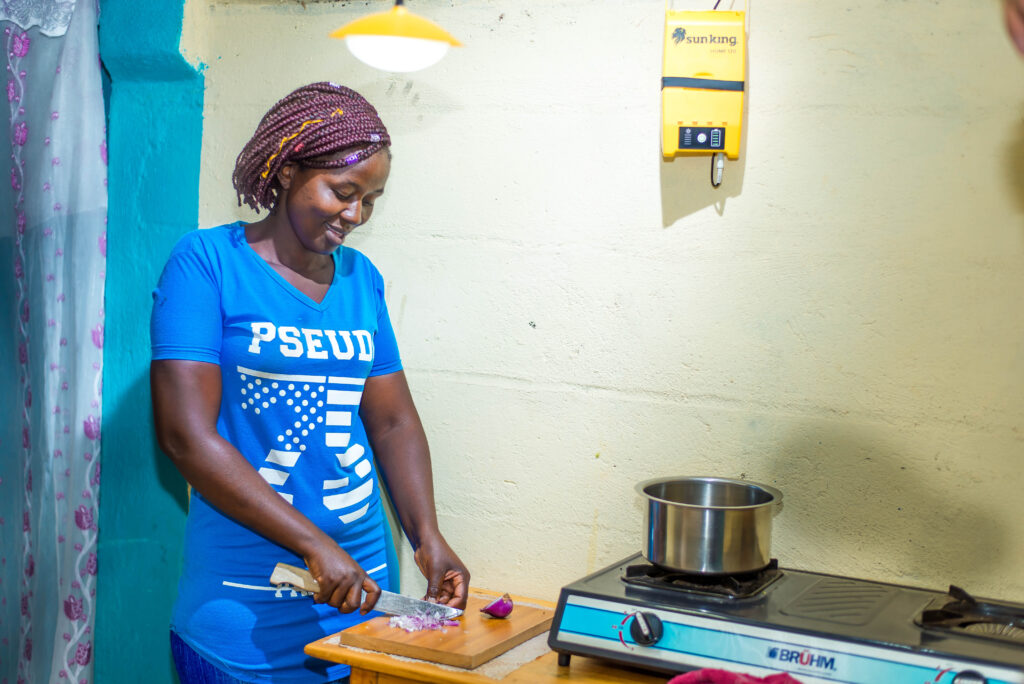 Just like in any other business, there are issues hindering business viability. Capital access and high poverty levels in many off-grid communities are some of the biggest challenges facing the company. A good return on investment may not be as high as in more developed areas, which is why securing funding for rural, off-grid projects can be difficult. Consequently, companies like Deevabits may find it difficult to expand and reach more communities. Deevabits primary customers are based in poor and remote. "In Kenya, many off-grid communities are in remote areas that are difficult to access due to poor road infrastructure. This can make it difficult for companies like ours to reach these communities and provide them with access to reliable energy. Despite these challenges, we are committed to finding innovative solutions and working with partners to positively impact the lives of off-grid communities in Kenya."
Deevabits is also aiming to expand its services to rural communities outside Kenya. To meet this goal, they plan to introduce more products, including solar water pumps for energy production. Investing in Deevabits is a contribution to the ambitious goal of achieving total energy coverage in rural areas and will help off-grid rural communities' flourish.
"We are using big data analytics to credit score our customers and offer them more beneficial products like smartphones and cookstoves. We are also building an APP where customers can view their accounts for loaned products, order more products, and access loans."
David's dedication to creating positive change has resulted in his efforts being recognized. As one of the fastest-growing businesses in Kenya, Deevabits Green Energy was recognized by Yale Africa Startup Review as one of the 30 most innovative energy companies. Yale Africa Startup Review is a student and alumni-led initiative fearing founders and startups shaping the future of Africa with entrepreneurship. Among his accolades and awards, he received the D-Prize Award (2016), the SNV Netherlands Development Organisation Top Performing Entrepreneur Award, and the United States African Development Foundation's Power Africa Off-Grid Energy Challenge winner. His work to empower women in the renewable energy industry and providing financial services to underserved communities has been featured in Forbes Magazine as well.
Author: Kimberley Asakundwi Netshivhale-Makumbe from Pretoria in South Africa
Already published: