Arusha Tourist City and Used Plastic Bottles Collection
Arusha is one of the cities in East Africa that has been so much affected with plastic bottles waste. The plastic bottles are mainly from juice and water bottles, liquid soaps as well as other food items and groceries from food stores.
The city environment has been greatly affected by the waste and hence spoiled its profile. Back in the nineties, Arusha was one of the cleanest cities in East Africa. This was and still is one of the crucial attributes for a city which depends solely on tourism for its survival and economic growth.
The government of Tanzania has been working hand in hand with the private sector to contain the environmental pollution challenge caused by the plastic bottles. In the other hand, this has been a business opportunity to various stake holders too. These are street bottle collectors, vendors who buy from street bottle collectors and those who sell the plastic bottles to factories. The vendors ship their consignments to factories in Dar es Salaam, where the waste is being recycled into other useful plastic products.
The massive use of plastics in Tanzania has resulted from absence of substitute products like the ones from paper and sisal – despite the country having such raw materials, in abundancy. Of recent, though, the country has come up with a policy of discouraging the production and use of plastic parking materials – be it bottles or bags.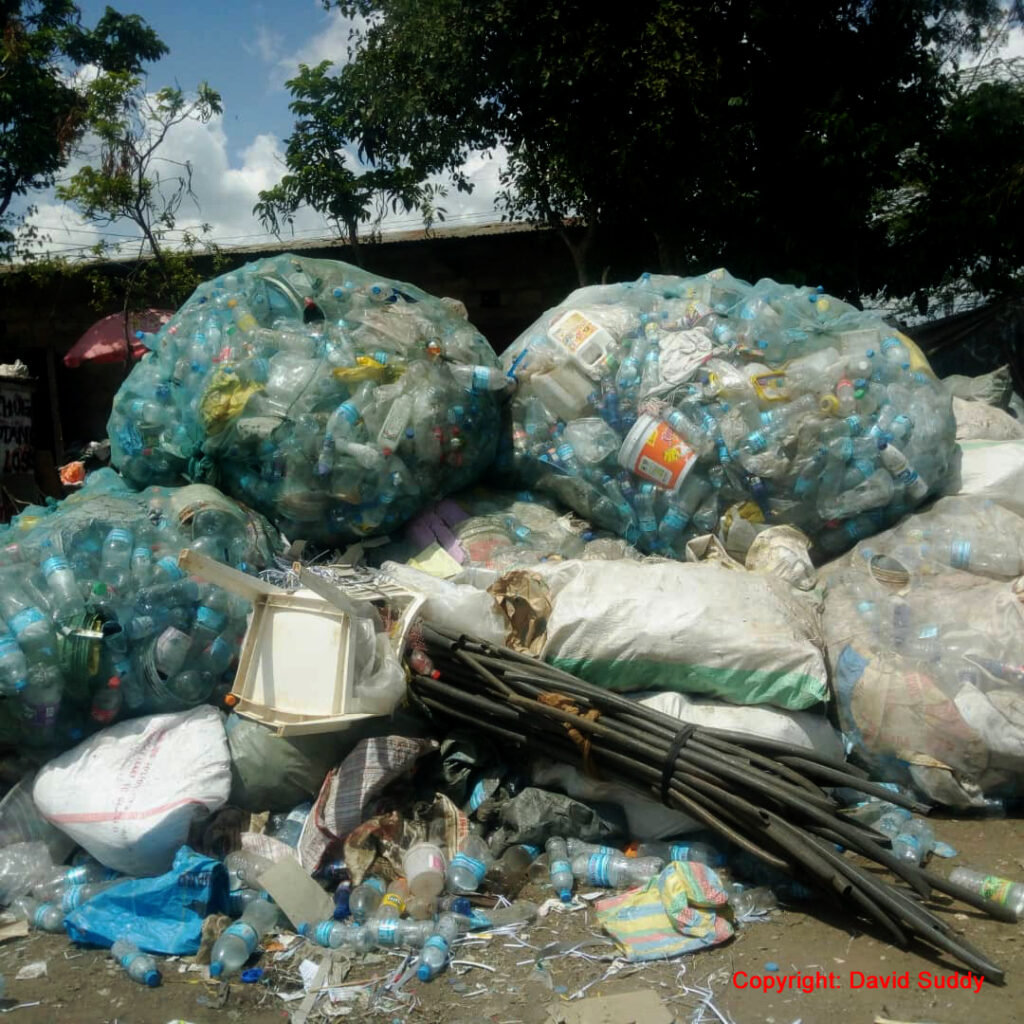 Those who collect plastic bottles are doing a great job but earn very little. For instance, a kilo of used plastic bottles (water bottles) is sold at 150 to 200 Tanzanian shillings which is equivalent to USD. 0.0652. or 0.0851 This work is done by the homeless and people living in extreme poverty. One need to collect at least 10 to 15 kilograms of used Plastic bottles in order for him to earn a living, which is less than 1 US Dollar a day.
Despite working in a difficult environment, the street bottle collectors also face other challenges. They usually face competition from people who buy the bottles directly for bars for reuse. Local bars, restaurants, grocery stores, bust stations, and waste dumping areas are the main target areas for the street bottle collectors. The collected bottles by the competitors are used to pack oil, petrol and liquid soap made by small scale local entrepreneurs.
The collected plastic bottles usually undergo a process of compressing them in order to get a sizeable voluble of the consignment for an ease of shipping. Street bottle collectors cannot afford this process so they end up selling the bottles at the minimum pay.
The entire work of collecting the plastic bottles is very hazardous to the collectors' health. During collection of the bottles in dumping areas no health precautions are being considered. Hence, this work put the street collectors at big risk pertaining to their health.
Author: David Suddy from Tanzania
Contact: DavidSuddy.tz@gmail.com