Kenya – Maathai is one of Africa's most impressive women. Her life and work is more than amazing and she was honoured with the Nobel Peace Prize.  The central theme is the women's movement in Africa with the ecological aspect of tree planting. A topic that is also gaining importance in 2021, because intact forests are considered carbon sinks. They are more and more perceived as an instrument to mitigate the carbon dioxide concentration in our atmosphere, especially in Africa.
Maathai has a colourful curriculum vitae. She was born in 1940. Her father lived polygam and she graduated as an outstanding student from one of the best convent schools in Kenya. This led to scholarships in Germany and the USA to study biology. She is the first woman in Kenya to receive a doctorate. Back in Kenya, she quickly becomes a professor at the University of Nairobi. She resists Kenya's less than democratic government and her husband, who thinks she is too educated. When she challenges the divorce decree, the judge has her imprisoned.
An important aspect of her strong political commitment is the strengthening of women's rights, also in parliaments. Her observations of the advancing drought lead to the founding of the Green Belt Movement in 1977. In East Africa, she creates enthusiasm for the issue of reforestation by placing tree seedlings on the map of Kenya, thus arousing the interest of visitors to Kenya's largest agricultural fair.
Financed by donations, tree nurseries run by women are being established in many communities. The young trees are to be transformed into forests. In this way, they prevent soil erosion and bind water in the dry soil. They improve the microclimate and promote rainfall. Until now, women had to walk long distances to fetch firewood, but this will no longer be necessary if the forests are located close to the villages after planting. The lack of firewood had already changed people's eating habits. This resulted in malnutrition.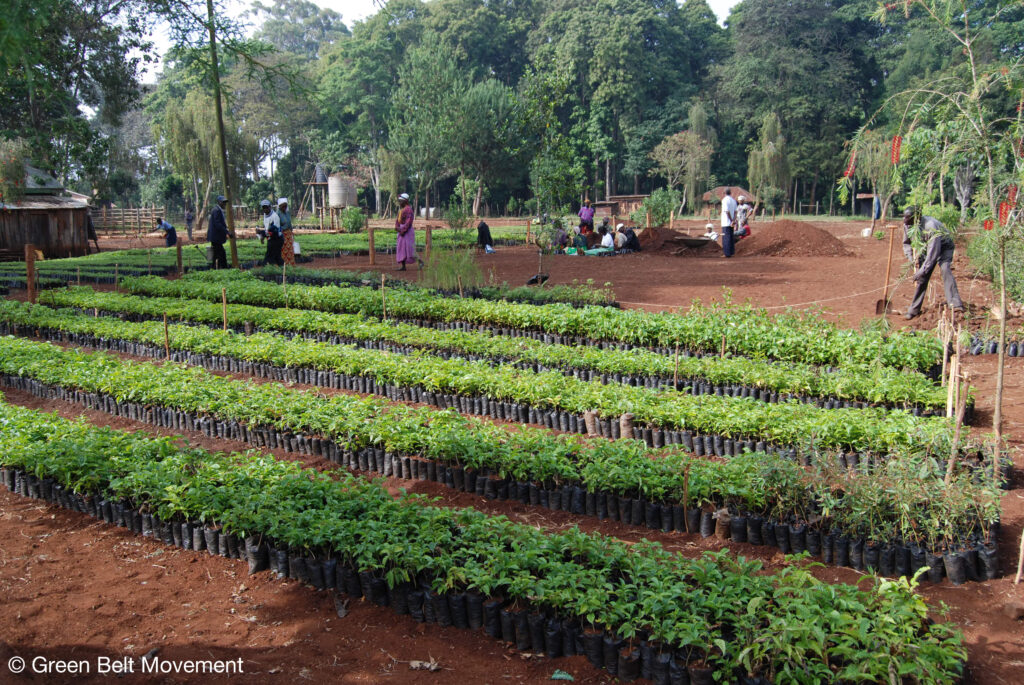 That is why Maathai got the women from Kenya to set up tree nurseries to grow saplings of indigenous trees. She paid the women no wages if trees were planted elsewhere afterwards. This led to a new source of income financed by donations. To date, 45 million trees have been planted by the organisation with the possibility of carbon dioxide storage. Wildlife has returned, especially birds and mammals. Soil erosion also decreased
After her divorce, she became the central identification figure of the women's movement in Kenya. In 2004, she was awarded the Nobel Peace Prize for her commitment to women's rights and the environment. The citation said: "She has taken a holistic approach to sustainable development, encompassing democracy, human rights and women's rights." The prize honoured her for her opposition to the former Kenyan regime and as founder of the Green Belt Movement. Maathai was a member of the Club of Rome. However, the Green Belt Movement does not primarily aim at storing carbon dioxide in the form of trees, but wants to improve the living conditions of women in general as well as environmental conditions. Improve.
Maathai is a woman ahead of her time. She wanted to empower women in their environment. In doing so, she uncompromisingly stands up for her convictions and accepts prison terms. The forest should fulfil ecological functions such as water storage and the prevention of soil erosion and secure part of the people's livelihood. To this end, she organises lectures and training courses as well as seminars. Political education was also on their agendas. The donor-financed approach is not without criticism. Many approaches focus on helping people to help themselves. In the case of the Green Belt Movement, this would be possible in the form of ecotourism, for example.
The Nobel Peace Prize winner dies in 2011
Book tip: The Green Belt Movement
Author: Dr Thomas Isenburg, contact: presse@thomas-isenburg.de
Link: http://www.greenbeltmovement.org/who-we-are